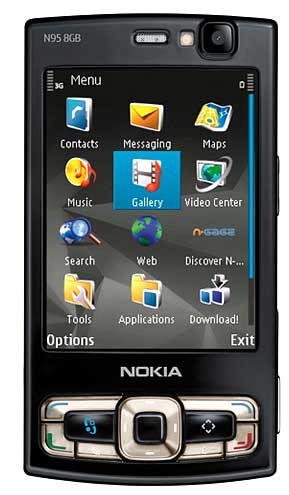 I've been an ericsson/sony ericsson fanboy for as long as I can remember so it was a bit of a departure from the safe confines of my Sony when I got an n95 8GB for work (we needed a GPS phone to test on). I'm absolutely in love with it.
Pro's
Huge screen
5MP camera with flash
8GB storage
Good battery life
3G and HSDPA
Wifi
Bluetooth with A2DP
Flickr upload automatically set up
AGPS with Nokia maps
Cons
predictive text is not very intuitive (for adding new words etc.)
In the call history – you can't tell which number of a contact was called or called from
It's a little bulky but it is my work phone so I can let that one go
I's great, I've got Gmail, Gmail For Google Apps, Opera Mini, Google maps, Nokia Sports Tracker, Fring, Youtube and Skype installed. It really is a joy to have. I'd easily recommend it. Apart from the touch screen of iPhone I think it would kick it's ass.